Use: Cleaning
Product: Bath Brush/Massage Brush
Model Number: Silicone Bath Body Brush
Condition: 100% Brand and High Quality
Products: In Stock
Feature: Full Coverage Shower Back Brush
Key 1: Bath Towel Shower Scrub Belt
Key 2: Home Bathroom Shower Washing
Color: Red/Blue/Green/Purple

How annoying is it to no be able to reach that one spot on your back while showering?

With our new Double-Sided Exfoliating Silicone Back Scrubber and Massager you'll be able to reach all those hard-to-reach spots and give yourself an exfoliating message as well!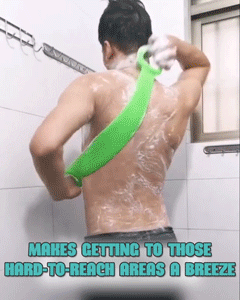 This silicone scrub brush cleans your pores by removing excess dirt, sebum and dead skin, making your skin softer and smoother. Not just for your back, this scrubber will exfoliate your whole body. 
Description:
Made of food-grade silicone, healthy and environmentally friendly, BPA-free.
Great for children, elderly, men, women.
Double-sided, one is great for exfoliating the other for messaging.
Length: 24in, 60cm